Sports Injuries
Helping Athletes of Every Age, Sport and Level to Stay Active
Unfortunately, injuries are an inevitable part of playing sport. Acute injuries can suddenly force you to the sidelines, and overuse injuries can slowly decrease your performance and activity levels over time. Thankfully, there are treatments to reduce your pain, increase your strength and help you return to the sport you love.
Whether you're a casual player or an elite athlete, the Hampton Podiatry team can provide tailored treatment to help you get back in the game. We work with people from all sports including AFL, cricket, athletics, running, netball, volleyball, dancing, gymnastics and more! As specialists of the lower limb, podiatrists can assist with sporting injuries in the foot, ankle, shin, and knee as well as injuries caused by biomechanical imbalance problems in these areas.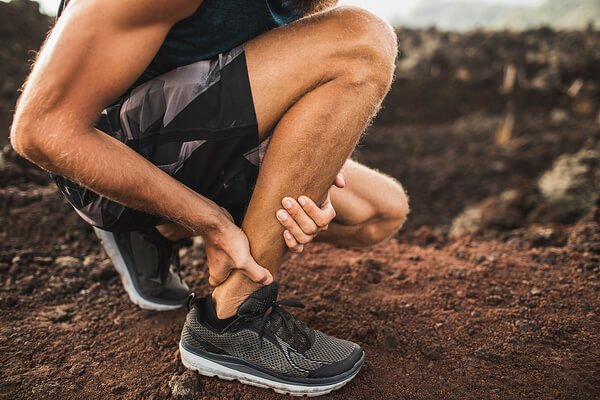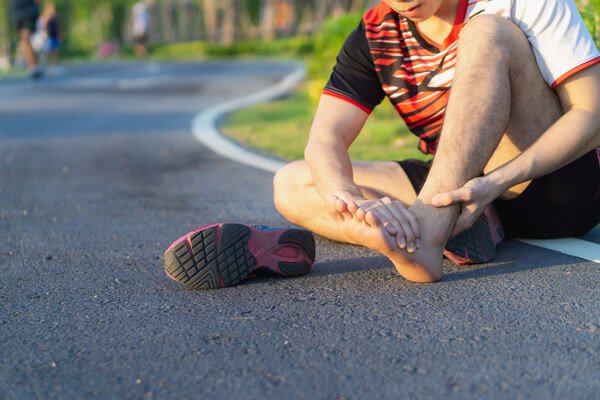 Sprained Ankle
A sprained ankle occurs when you roll or twist your ankle in an awkward way. It causes the ligaments in the ankle to stretch or tear. The swelling, pain and limited range of motion can be uncomfortable and reduce your activity.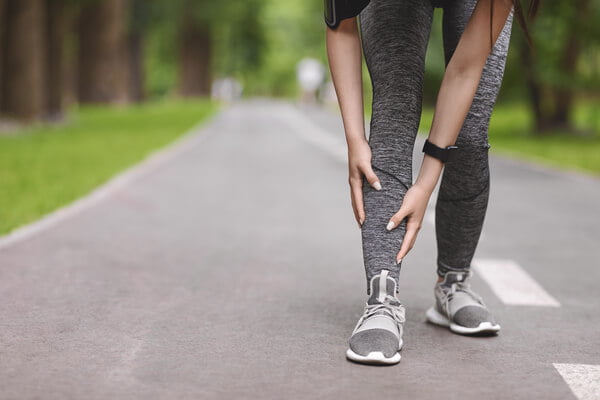 Shin Splints
Put simply, shin splints occur when there is pain in the shin bone caused by overuse. Shin splints can flare up if you've recently intensified or changed your training routine.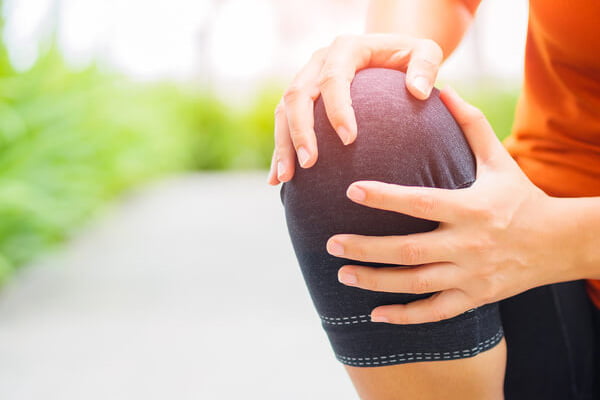 Knee Pain
There are several causes of knee pain. A podiatrist can help you to identify the cause, treat the injury, and strengthen your knee to prevent reinjury.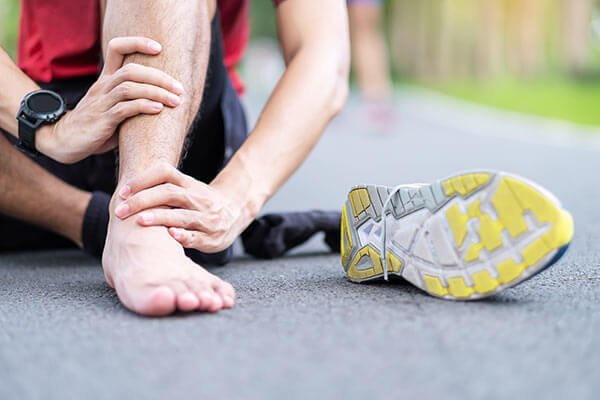 Achilles Pain
Your Achilles tendon connects your calf muscle to your heel. This tendon plays an important role in walking, running, and jumping, and injuries are typically due to overuse, degeneration or weakening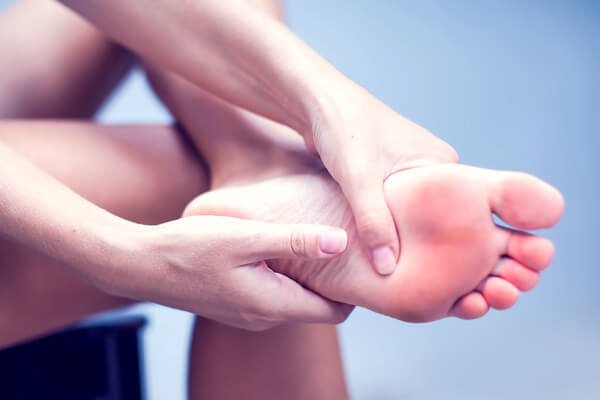 Intermetatarsal Bursitis
Intermetatarsal bursitis affects the bursa (a small fluid sac) in the ball of the foot. If you have this condition, you may experience sharp pain, a burning sensation or numbness in the toes.
Arch Pain
If left untreated, arch pain can affect your mobility. The causes of arch pain include inappropriate footwear, tight muscles, fractures, or osteoarthritis. Treatment considers your biomechanics and long-term solutions to decrease pain in the area.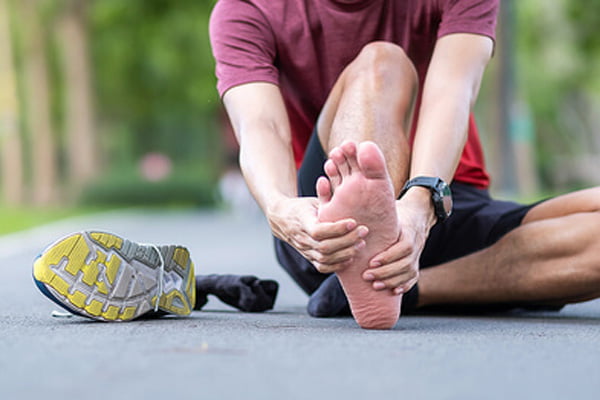 Plantar Fasciitis
Heel pain, commonly referred to as plantar fasciitis, is mild to severe pain in the heel that disrupts daily activity. It can be caused by strain, inflammation, heel spurs, and injury. Podiatrists offer effective, long-lasting, and tailored treatments for heel pain.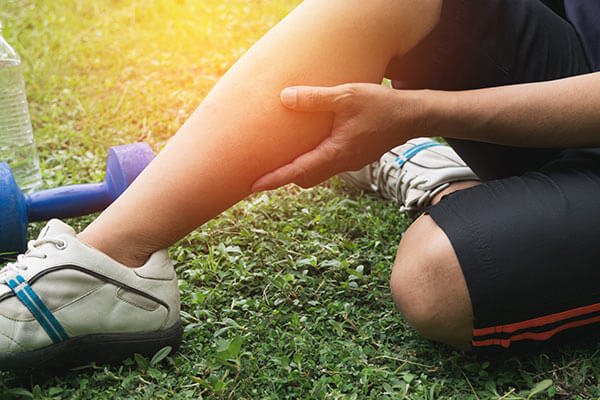 Lower Limb Conditions
In addition to the common conditions listed, podiatrists treat a wide range of lower limb sports conditions. For a podiatry assessment, book your initial appointment today.
Podiatry Treatments for Sports Injuries
Offloading Area
Offloading the affected area may reduce pain and improve biomechanical function. Padding and strapping are common ways to offload the area. Modifying your footwear or orthotics may also be recommended.
Strapping
Strapping can reduce movement in a certain area, thereby reducing the risk of injury. Your podiatrist may initially complete the strapping, then provide details of how and when to complete strapping yourself.
At-Home Treatments
Sports injuries are often first treated with RICE (rest, ice, compression elevation); this common acronym describes a method to reduce swelling, ease pain and enhance healing. There are also other at-home treatments your podiatrist may recommend.
Strengthening Exercises
Your podiatrist may prescribe exercises to help you strengthen an area of your body. This can enhance healing and prevent the risk of reinjury as well as enhancing athletic performance.
Sports Injuries Treatment Process
Assessment
Initially, your podiatrist will learn more about your medical history and collect details about your current sports injury. They may also perform a physical assessment that considers your injury as well as your overall biomechanics.
Diagnosis
After assessing your injury, your podiatrist may offer a formal diagnosis. This can inform your treatment plan and indicate the cause of your sports injury. If your injury is related to overuse or imbalance, this will also be addressed to reduce the risk of reoccurrence. If further investigation is required, your podiatrist may refer you to have medical scans.
Treatment
The Hampton Podiatry team create tailored treatment plans to suit each patient. Acute sports injuries are best treated shortly after they occur with an emphasis on rest and restrengthening. Rushing the process can inhibit recovery.
Ongoing Care
Once your injury has been treated, your podiatrist will offer ongoing care strategies to prevent reoccurrence, strengthen your body and enhance performance.
Learn more about our comprehensive Biomechanical Assessment.
Why Choose Hampton Podiatry?
At Hampton Podiatry, our focus is on providing quality podiatry care at competitive prices.
Our professional team of registered podiatrists and support staff have over 30 years' experience serving the Hampton community. In our purpose-built clinic, you'll find leading technology to provide accurate assessment and tailored treatment. For holistic podiatry care from an experienced team, book your appointment at Hampton Podiatry today.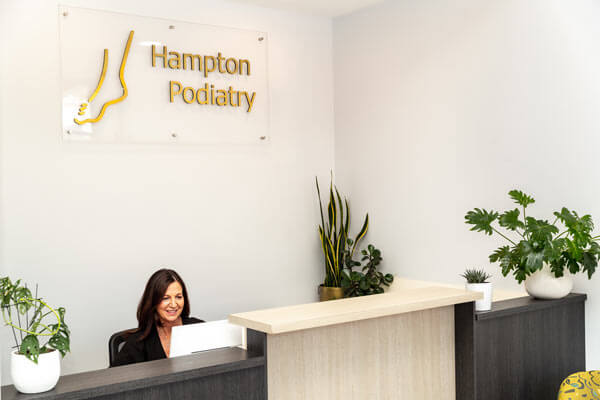 FAQ's About Sports Injuries and Podiatry Treatments
How long will it take to recover?
Every patient's time frame is different. At Hampton Podiatry, we offer tailored treatments to enhance the process, allowing you to recover as quickly and safely as possible.
Do you treat children and adults?
Yes. We work with people of all ages.
What should I bring to my initial appointment?
You should bring any relevant medical scans related to your injury. Your podiatrist will want to learn more about the symptoms of your injury, when it started, what sport you do and where the pain is- you should think about these questions before you arrive.
What should I wear to my appointment?
Comfortable clothing that you can move freely in. You should wear shoes that you typically wear. If you wear one pair of shoes during your sport, it may be helpful to bring them too.
If you're looking for an experienced podiatrist to treat sports injuries, contact the Hampton Podiatry team today.