Custom Orthotics to Suit Your Feet and Your Lifestyle
Healthy feet and ankles are an essential part of overall fitness, health and wellbeing. Custom orthotics are a practical prescription device that supports and improves foot alignment to reduce pain and enhance mobility. Not only do they biomechanically improve posture, gait and weight distribution, but they also take the pressure off your feet and reduce force in the foot and ankle joints. Custom orthotics are tailored to you, helping you to stay on your feet for longer.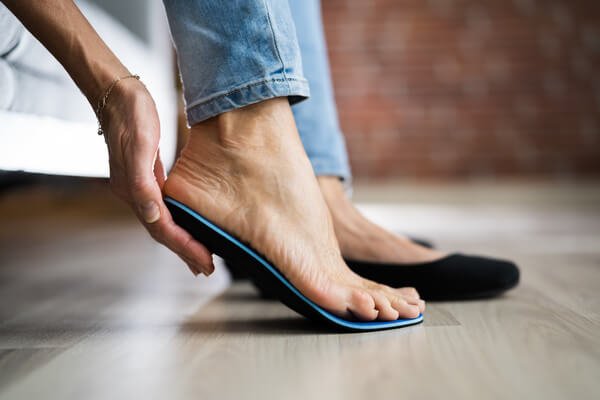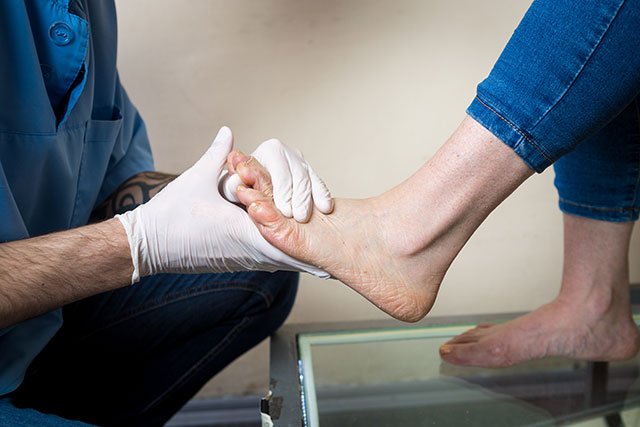 The Benefits of Custom Orthotics
If custom orthotics could help you, then our experienced podiatrists may recommend or prescribe them. Orthotics biomechanically correct the position of the feet, allowing the wearer to walk and run comfortably and correctly. The redistribution of the pressure and force on the feet can reduce pain and prevent the worsening or occurrence of injuries.
Because they are entirely customised for each person, they suit patients of all ages and activity levels. Your podiatrist will take various factors into account when prescribing orthotics, including your history, activity levels, choice of footwear. Advanced technology also assists the process, providing accurate 3D scanning and assessing your feet to ensure the orthotics are an excellent fit.
Overall, orthotics can redistribute weight, reduce force, correct alignment, alter biomechanical positioning and improve posture to reduce pain and enhance comfort.
Using Orthotics to Treat Numerous Conditions
Orthotics can be used in the treatment of:
Heel & arch pain
Plantar fasciitis
Knee pain
Ball of foot pain

Achilles' tendon pain

Sore or aching feet and legs
Long-term corns & callus
Lower back, hip and knee alignment issues
Orthotics are also used to treat a variety of other conditions. However, if your podiatrist believes an alternative treatment will be more beneficial, they may not recommend orthotics immediately. Orthotics can be used in conjunction with other treatments to support recovery.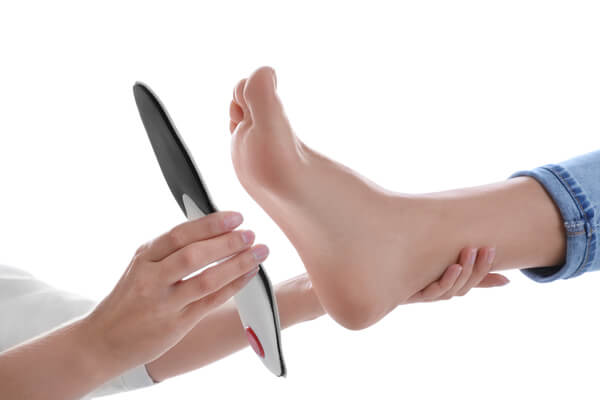 Getting Your Custom Orthotics: The Process
History
First, we'll collect a detailed history of your injuries, pain, symptoms, work, lifestyle and activity.
Assessment
Next, we'll assess your standing posture and consider measures like your ankle position, arch height, knee position and hip alignment.
Walking Analysis
We complete a walking analysis to assess your whole body and how it moves. We'll identify any imbalances, including tilt through the shoulders and hips, movement through the feet, tightness in the calves or twisting of the knees.
Footwear
We consider your footwear preferences and customise your orthotics to suit the style of your shoes.
Force Platform
We use a force platform to assess how much pressure is going through each foot. If there are red hotspots, these high-pressure areas could indicate the reasons for pain.
3D Scanner
The 3D Scanner can quickly and accurately scan your feet. These scans are sent to our Melbourne-based lab for production.
Production
A Melbourne-based lab produces your custom orthotics in accordance with our assessment, prescription and scans.
Pick Up
Finally, you can collect your new orthotics, start wearing them and realise the benefits.
Why Choose Hampton Podiatry?
Customised
Our orthotics are entirely customised and unique to you. We consider various factors and complete an extensive assessment to ensure your orthotics are 100% personalised.
Experience
Our podiatrists have over 30 years of experience. We provide tailored and honest treatment and will only prescribe orthotics if they are very likely to assist you.
Technology
We use 3D scanning and force platform technology to accurately assess your feet and prescribe custom-made orthotics.
Made in Melbourne
Once assessed and prescribed, we send our orthotics to a Melbourne-based lab for production.
FAQ's About Custom Orthotics
Are orthotics suitable for children and adults?
Yes. We treat children and adults at Hampton Podiatry and offer custom orthotics for all age groups.
How often should you get new orthotics?
This depends on the unique requirements of the person and considers their activity and type of orthotic. Typically, we review children's orthotics every four months or following a growth spurt. We usually review adult orthotics every 6 months or once a year, depending on your needs.
What are the differences between packaged orthotics and custom orthotics?
Just like prescription glasses, orthotics should be made especially for you. Packaged orthotics do not consider all of the factors that make your feet unique. Custom orthotics are entirely tailored to you. They consider your height, weight, activity levels, footwear, types of activity, biomechanics and more. They indeed are one of a kind, and they're made just for you.
How long does it take to make custom orthotics?
Custom Orthotics can be made in 24 hours to 5 business days.
If you're looking for an experienced podiatrist to assess your feet and prescribe custom orthotics, contact our team today.